A Skin is the look of a Snake during Gameplay, some skins can only be obtained by using Extensions, but those skins can only be seen by other players with the same extension and you. There are 44 different Skins in Slither.io ; 9 of which you can use without sharing.
You can gain access to all skins if you share on Facebook/Twitter, but you can simply click them, and go back to the page without logging in, and then choose your skin.
Please note that you cannot automatically pick a Skin until you share, and if you do not share, you will automatically get randomly assigned one of the Default Skins when you click the Play button.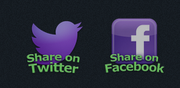 Types of Snake Skins
Edit
Accessed Normally (Default Skins)
Edit
These Skins cannot be customized by accessing normally, instead you randomly spawn as a Snake with one of these skins
Obtained by sharing on Facebook/Twitter
Edit
These Skins are obtained through sharing the game on Facebook or Twitter, you can customize them by clicking the Change Skin button in the bottom left corner.
Ad blocker interference detected!
Wikia is a free-to-use site that makes money from advertising. We have a modified experience for viewers using ad blockers

Wikia is not accessible if you've made further modifications. Remove the custom ad blocker rule(s) and the page will load as expected.